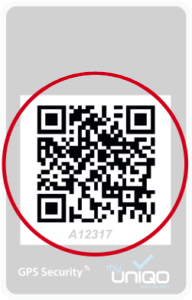 VEHICLE REGISTRATION BY 
QR CODE
Scan the QR code with your smartphone printed on the frame of the vehicle you just purchased.

Now the 

myuniqo.com

 system, exclusively for vehicles in the 2020 collection, recognizes the vehicle and opens the web page dedicated to registration.

Complete the form with your details and request vehicle registration on the dedicated web page.

The system verifies the correctness of the data, the purchase has been made and activates the guarantee.

Now accept the privacy conditions.

The system now activates the passive GPS functionality.
REGISTRATION VIA QR CODE APPLIED ON THE VEHICLE FRAME
Register by filling out this form